Louise Hederström Design AB
Regementsgatan 72
SE-217 51 Malmo
Sweden
+46 70 467 43 03
hello@louisehederstrom.com
Instagram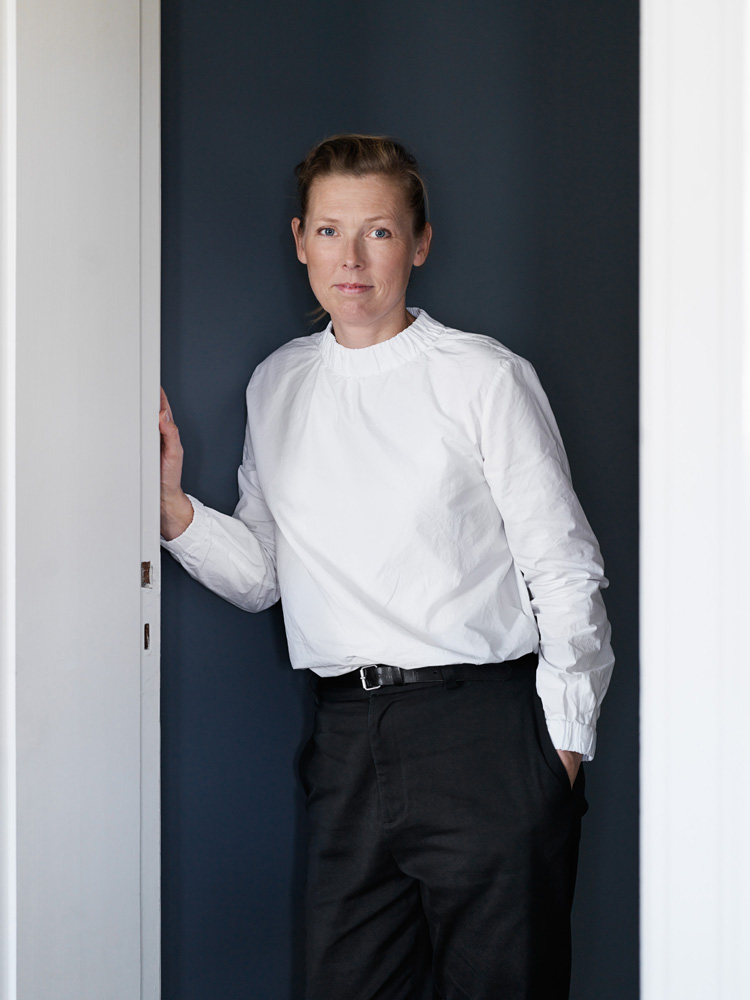 Louise Hederström is a furniture designer based in Malmö. After graduating in 1998 from Beckmans School of Design in Stockholm, she now has an extensive business as a designer. Her clients include some of the most respected manufacturing companies in Scandinavian design, such as Offecct, Skagerak and Maze. Louise regularly participates in exhibitions in Sweden and abroad and has also repeatedly been an instructor for various design education programmes. She also works together with upholsterer Carina Grefmar under the brand Grefmar+Hederström and they are represented by the gallery Hostler Burrows in New York.
Interview by Leo Gullbring
Your design is quite graphic, and often executed in sheet metal. Isn't that quite a harsh material?
– I see metal as a pliable material, and quite soft. I grew up on a farm where tractors and harrows were the everyday reality; they had an evident positive character. Sheet metal is perfect in my striving for a graphical expression. I use to work with paper in my design process, and paper bears a direct connection to sheet metal.
Why is character so important in your design?
– I like characters! That's why I live in a city; I meet interesting figures every day, people and animals. I want to give my designs a personality; function has to be paired with character. I also enjoy when the user is part of the project, that makes its all that more enjoyable.
Some claim that design contributes to consumerism; others hope that good design can change the world. What's your responsibility as a designer?
– It's for sure that there are too many objects around, and too much garbage. But it would be quite naive to believe that individual designers carry the whole load of environmental responsibility, we need a political will to change, we need another production system. I try to think the whole way through, to make the right choice of materials which are easy to dismantle and recycle when needed. The producers are very important in that regard. To have a good collaboration means that we together can devise good product processes with a sustainable outcome, all the way to the end user.
Your objects carries name like Dixie, Larry, Minnie Mae… Why this interest for Elvis?
– I discovered Elvis when I was four years old; I loved his voice and his songs. As a 10 year old all my friends listened to Carola, but it was still Elvis for me. There's something special with that era, the colours, the design, the characters, and of course all that music.
You excel in contrasts: open and closed, light and heavy, figurative and non-figurative….
– I love the contrasts between old and new; here in Malmö we still have industrial areas in the midst of the city. I like to work in between spaces, to see how form and materials meet each other. My design process is a lot about composing, that's something I learned studying art in school and at the university.
Work
2001– Louise Hederström Design, Malmö, Sweden
2008–10 Lecturer at Product design Malmö University, Sweden
2003–09 Teacher at Lund School of Art and Design, Sweden
2000–01 Teacher at Beckmans School of Design, Stockholm, Sweden
1999–00 Product designer at Björn Dahlström Design, Stockholm, Sweden
1998–99 Assistant at IKEA Design department, Älmhult, Sweden
1998 Design assistant at Matz Borgström Design, Stockholm, Sweden
Education
1995–98 Beckmans School of Design, Stockholm, Sweden
1994–95 Lund School of Art, Lund, Sweden
1993–94 Art History, University of Lund, Sweden
Selected exhibitions, awards and grants
2018 Understory, Designgalleriet, Stockholm, Sweden
2017 Ticka project, with Carina Grefmar, Hostler Burrows, New York, USA
2017 Next level craft, with Carina Grefmar, Institut Suédois, Paris, France
2017 The Swedish Arts Grants Committee one year working grant
2016 Welcome to Weden, with Carina Grefmar, London, Tokyo
2016 The new map, with Carina Grefmar, Form/Design Center Malmö,
Vandalorum Värnamo, National museum Stockholm
2015 FETISHISM, Obsessions in Fashion & Design,
Li Edelkoort/Trapholt, Kolding, Dennmark
2014 Tailor nominated for Furniture of the Year, Sköna Hem
2013 Holder of Region Skåne Design Grant for Layer pouf
2013 Malmö by proxy, Ventura Lambrate, Milan, Italy
2012 Ecodesign Habitare, Helsinki, Finland
2011 Ah Vaddå-då? Malmö!, Form Design Center, Malmö, Sweden
2011 Ecodesign Habitare, Helsinki, Finland
2011 Swedish Love Story, Superstudio, Milan, Italy
2010 Ecodesign Habitare, Helsinki, Finland
2009 Design Design Design, Form Design Center, Malmö, Sweden
2009 Winner of Beefeater Design Award, Sweden
2008 Musée des Manufactures de Dentelles, France
2007 A Dream Come True, Salone Satellite, Milan, Italy
2007 Slöjden tar form, Form Design Center, Malmö, Sweden
2006 Taot N Thea, Extremely White, Amsterdam, Holland
2006 Salone Satellite, Milan, Italy
2006 Galleri Pascale Cottard, Stockholm
2005 Möbelmössan, Wetterling Gallery, Stockholm
2005 Allrum, Helsingborg, Sweden, Paris, France
2005 Galleri Pascale Cottard, Stockholm, Sweden
2004 Designed in Sweden, London, GB, New York and Los Angeles, USA
2004 100% Design, London, GB
2004 Salone Satellite, Milan, Italy
2003 PS Kids, IKEA of Sweden, Form Design Center, Malmö, Sweden
2003 Break, furniture exhibition, Palazzo Isimbardi, Milano, Italy
2002 Holder of Estrid Ericsson Scholarship, Sweden
2002 Agata design exhibition, Art Fair, Stockholm, Sweden
2002 Getlow, furniture exhibition, Stockholm Furniture Fair, Sweden
2001 Lighted, exhibition at Svensk Form, Stockholm, Sweden
2000 Frizzon, design exhibition, Centre Culturel Suedois, Paris, France
1999 Holder of Åhlens Scholarship for Young Designers, Sweden
1999 Young Swedish Design Award, TCB lamp
1998 Young Swedish Design Award, Klaff folding chair
1998 Holder of IKEA Working Scholarship, Älmhult, Sweden
Collaborating producers
Bsweden, David design, Eurobib, Grefmar+Hederström, House Styling, Karl Andersson & Söner, Maze Interior, Nola, Offecct, Skagerak, Skandiform and Torkelson.